Focusing on Highly Complex
Regulated Markets

We thrive in sectors that require a high degree of compliance

Developing Excellence in Industry Specific Solutions

We start with you, the expert, to help make each solution work

Driving Automation while
Improving Compliance

We can drive efficency while improving auditability

Canadian Designed, Built
and Supported Solutions

Solutions that fit to unique Canadian compliance in privacy and security.
HELLO, WELCOME TO MOMENTUUM
Our Team
Matt Yeatman

President


Matt Yeatman is the co-founder and President of Momentuum, bringing more than 20 years of technology experience serving the financial services industry. Matt led the design and development of applications and systems foundations that serve as Momentuum's leading products today. Prior to founding Momentuum Matt served as Solution Architect at Resolve Corporation, a leading service provider to some of Canada's largest Financial Institutions and Insurance Companies, where he designed innovative business process using advanced system automation.

Adam Arcuri

Vice President


Adam is Vice President of Momentuum and has been instrumental in its continued growth since joining as Director of Operations in 2012. Adam has led the development of the FileAssure offering from its infancy with interface re-design and advancement of industry-leading innovation. Adam is passionate about developing long-standing relationships with Momentuum's client base. In promoting these relationships, he has ensured the platform's progression remains consistent in exceeding client requirements in an evolving industry.
OUR PRODUCTS
Momentuum has the proven ability to deliver a seamless mix of technology and services to deliver industry specific solution platforms tailored for unique specific business needs within each sector. Below are Momentuum's key service lines:
An enterprise platform that delivers on a number of disciplines from enhanced client onboarding, content management and standardizing process through production workflow capabilities.
Built for the public sector CivicTrack is designed to assist in case work from a broad and complex array of concerns. CivicTrack ensures that case work is managed efficiently from start to finish.
LyncEdge
A platform, with a focus on applicant tracking, designed to bring a wide range of stakeholders together in delivering greater value to the end consumer.
ScheduleTransfer
Customized to deliver clients with sophisticated pre-authorized debit needs through Electronic Fund Transfers. The platform is designed to provide greater flexibility in payment options to end-clients in high volume environments
Financial Restructuring Sector
1953000
Records Under Management
88767999
Documents under Management
Public Sector
Delivering for clients in the Federal Government and some of the largest Municipalities in Canada.
More features
All of our solutions are built on a solid framework - a proven robust platform
Web-Based
Our platforms are all web-based making the rollout, access and support very easy.
Authenticated Roles
Security Profiles drive the functionality each user can see and we allow great flexibility in create which roles perform which tasks
Full Audit Trail
Each transaction in our system is logged to provide fingerprinting thought the life of a record
Mobile Ready
All of our systems are readily available and easy to access from any browser on any hardware
Easy to Navigate
Each aspect of our system is designed with careful attention to an elegant design of the user interface
Canadian-Based
Our solutions are Canadian Designed, Built, Supported and Hosted.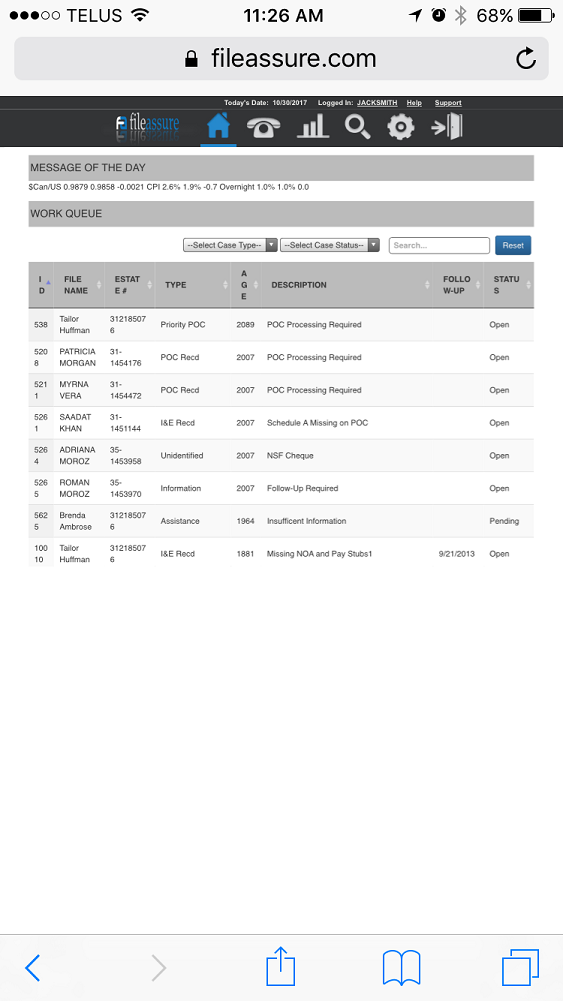 Other Regulated Markets
Continuing to explore new opportunities in specific sectors with unique challenges.
The first step towards success is a clear understanding of goals, roles and responsibilities. Complete alignment on critical success factors starts with a partner who listens carefully and can understand your business needs, expectations and long-term vision.

A differentiator from traditional solution providers, Momentuum understands your problems are unique and creates customized solutions for its clients and their business problems. We are here to remove client stress, pain and anxiety. Our range of capabilities and experience provides a solid foundation for solutioning to deliver a fresh and original approach.

Momentuum is a company of engagement and action. We don't simply design a solution, we put it into action - with real, tangible results. When we go into action there is a clear reason around what we are doing, where we are going and what the results must be to consider it a success. Momentuum takes full accountability from design to delivery

A deep rich understanding of the true value of the service our clients provide, allows us to design and deploy effective multi-channel communication programs. Programs specifically geared not only towards acquiring new but also retaining existing relationships.
company address
First Canadian Place,
100 King Street West 56th Floor
M5X 1C9, Toronto, Canada.
Products
copyright © 2020 Momentuum BPO Inc